Velseis are Land Processing specialists with a long track record of producing quality results even with the most challenging data. We are a very experienced land processing operation having processed well over 1000 land 2D and 3D projects from across Australia as well as Internationally. Our clients come from a range of industries including Oil and Gas, Coal & Coal Seam Gas, and the Minerals industry.
​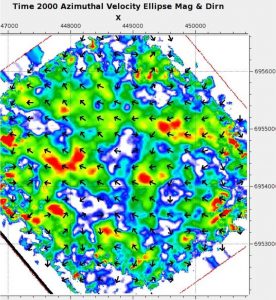 For the Oil and Gas industry we process everything from small 2D lines through to very large 3D projects, where we merge and migrate dozens of vintage surveys creating one seamless product. We also have substantial experience merging land, OBC,and marine data to form one seamless volume.
​Velseis pioneered the use of high resolution seismic imaging for coal and coal seam gas, and have long been acknowledged as worldwide industry leaders in high-res imaging for coal. The information derived from our imaging and interpretation are of significant importance to the economics and safety of coal mining operations.
​Velseis Processing has been providing specialized seismic processing services to the Mineral's industry since 2002. Our intimate understanding of high resolution seismic imagery as it applies to subsurface mineralization provides unparalleled advantage for mine exploration and development. We have provided hard rock seismic services for gold, uranium, iron ore, copper, lead, zinc, nickle, and platinum mines domestically as well as internationally.
​Our expert processing staff have access to a full suite of geophysical tools for land processing including:​
Refraction & Tomo-Statics
3D cross spread noise attenuation : fkxky, tfd, fxydecon
High-Resolution Velocity Analysis
5D Interpolation
Anisotropic solutions (VTI &TTI) for PSTM / PSDM
OVT Binning/Imaging
HTI correction
Azimuthal Analysis
​Our OVT imaging can be especially useful in areas of strong azimuthal velocity variation. OVT imaging preserves azimuth and offset information through migration allowing for post migration directional velocity and amplitude analysis.
​Our research team are continuously developing new technology to ensure that we continue to provide leading edge workflows, especially in the areas of multi-component processing, converted-wave seismology, and specialized High-Resolution processing.
​