Velseis can provide various seismic energy sources:
Vibroseis
Velseis have six IVI Envirovibe buggies, three Inova Univib buggies, and four Inova AHV-IV Renegade buggies.
IVI Envirovibes
These are light vibroseis buggies, which are very manoeuvrable, environmentally friendly (low impact), and easily transported. It is a low impact system designed for a variety of seismic reflection surveys. The system is optimized for operation in environmentally sensitive or populated areas. It features a broadband source which performs well at both low frequencies and high frequencies. The articulated steering design and the low center of gravity delivers good overall performance. The EnviroVibe system fits in a shipping container, allowing cost-effective and secure international transport.
Inova Univibs
These are slightly larger units which can be fitted with weights for additional force during sweeps. This is INOVA's newest vibrator and is designed for source operations in environmentally restricted or heavily urbanized areas generating lower ground pressure while still outputting frequencies down to 1 Hz. This very mobile vibrator is built with the same quality and reliability of the full-size AHV-IV vehicles. With a smaller vehicle footprint, the UNIVIB can navigate more freely through natural and man-made surroundings than larger vibrators. The UNIVIB includes a comprehensive selection of features including:
New vibrator buggy design for small to mid-range source acquisition
Up to 26,000 lbs of peak force
Frequency limit of 1 Hz to 400 Hz
Smaller footprint provides easier mobility through environmentally sensitive areas
Reinforced rectangular baseplate for improved ground coupling in comparison with I-beam configurations
Lower vehicle ground pressure to reduce environmental impact
A patented Pre-Loaded Stilt Structure (PLS) design to create a stronger, more reliable actuator that dramatically prolongs the life of parts
Fully integrated with INOVA's Vib Pro™ source controller for greater control, timing and QC
Simplified infield maintenance and troubleshooting
High capacity hydraulic cooling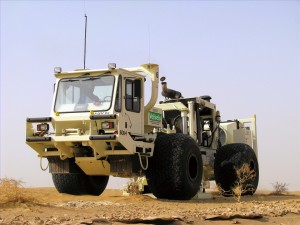 AHV-IV Renegade (PLS 380)
INOVA's 80,000 lb peak force Articulated Hydrostatic Vehicle is ideal for Distance Separated Simultaneous Sweeping, or when surveys require greater peak force output in the 10 to 60 Hz range. Renegade is the largest vibrator in INOVA'S fleet and the largest vibrator currently available in Australia. When compared with the standard 60,000lb INOVA vibrators, the Renegade 380 offers not only additional ground force, but larger accumulators and a better reaction mass to baseplate ratio etc. These features provide superior low frequency sweep characteristics, resulting in enhanced broadband capability and superior deep stratigraphic imagery. Importantly, the wheel base width of our Renegades has been reduced to comply with non-pilot road transport regulations and there is an option to fit either forestry lug or balloon tires.
The Vibroseis technique is well suited to projects requiring an efficient and cost-effective method of acquisition.
Mini-SOSIE
In areas with particular environmental or access restrictions, Mini-SOSIE provides a source which is geophysically competitive with Vibroseis. The technique uses a conventional road compactor as the source, and provides a very low impact operation.
With smaller crews required, this technique can be well suited to smaller projects with shallower targets. Mini-SOSIE is also effective as an alternative source for areas of a 3D Vibroseis survey where the Vibroseis buggies are not able to access due to environmental or other restrictions.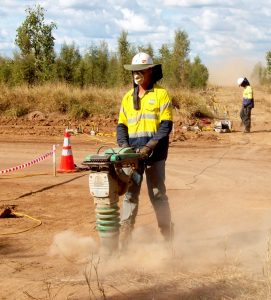 Dynamite
Velseis is highly experienced in the recording of dynamite surveys, with licensed and experienced shot firers on staff. Dynamite surveys are suitable for projects where the highest possible resolution is a priority.